Living like the Bride of Christ
This is a Process that begins with your Self Image of who you are, and how you think the King of Kings wants his BRIDE to be living. It is a State of Mind. Your Perception of your Reality.
God has Promised to Supply all our needs, so what do you think you are worth?
Your self worth is where your Faith level will be on how God is going to take care of you.
JESUS wants his BRIDE to have the Very, Very Best. Are you able to step up and receive that NOW?
We can all mentally ascend to that, but living it out is another story?
So we move from FAITH to FAITH. You start with what you can believe and CONFESS that you are Living as his BRIDE and it will begin to unfold according to your Faith.
It is all by FAITH so you must STRETCH Your FAITH and ACT on his WORD.
The enemy will certainly try to block you from Moving to Higher Ground in the Spirit, where you will be able to LIVE like a Real Women, when JESUS takes care of you.
BECOMING A KEPT WOMEN
JESUS wants to take care of You/ This is what is so Weird. We are always trying to Provide and take care of
our self, when JESUS wants to do this for us.
We have to allow JESUS to take care of us/ This will of course take some time, as you evolve Spiritually
and learn to receive More and More, from Heavenly Places in Christ JESUS, where his Storehouse is located.
No Limits, No Lack/
As your Image of who you are begins to Unfold and you see that you are to be REFLECTING more of
his GLORY, then you will become MORE of the Women God has in Mind for you to be.
You must get a NEW IMAGE of who you are becoming, so you have something your minds eye see's you
are being TRANSFORMED into day by day.
You must see yourself MATURING and MOVING on to HIGHER GROUND, Living a more FULFILLING
LIFE, as JESUS becomes your HUSBAND , you will have a WHOLE NEW LIFE Living as a Women of God.
Start this JOURNEY NOW/ stop looking at your present situation, and see yourself as his BRIDE, where your
Going and who you are becoming. START TO MATURE and GROW, and MOVE ON WARD and UPWARD
from this Point on.
The only LIMITS are in your imagination of who you are? and who THE BRIDE Must Become/
The BRIDE is a Kept Women, who simple lives to Glorify JESUS/ She is RESTING at his feet, with
No cares, Waiting on him to direct her path as she looks to him for all she needs.
Resting in the Bridal Chamber, Free from all earthly cares/ receiving the Gifts that he sends her daily/
Her Husband Lavishes on her Gifts and sends her Surprises just to delight her.
As she delights herself in the LORD, then he will Open unto her his Good Treasure/
He will send her secret presents, Gifts so special only she will see them/
(These Gifts can be untapped Talents or creative skills you suddenly begin to come into. )
Heavenly Delights from Heavenly Places.
The Desires of her Heart will be to simply have MORE OF JESUS/ all earthly desires have fallen away/
Here in is a Secret Place, of secret communicate/ There is only CONTENTMENT in his Presence.
The BRIDAL CHAMBER is the Secret Place, where the BRIDE is RESTING, surrounded by the Gifts
that just keep coming from the Bridegroom.
by
Ms Terry Mosley
2014
Hbr 6:3 And so, God willing, we will move forward to further understanding.
*********************************************
*********************************************
LIVING LIKE the BRIDE OF CHRIST PART 1
In 2002 I quit my very Stressful Job, when my Boss crossed the Line/
It was a moment when in my Spirit the Lord released me from the Bondage of working for Man/ and I just Said ENOUGH is ENOUGH I am DONE HERE, and I walked out, Kicking the dust of my feet off on that place.
( It went out of business within a year)
I Retired with a Grand sum of $25,000/ In other words I had no retirement plan?
I had been Confessing and standing on the Word of God for several years, that JESUS was being a Husband
unto me/
Isaiah 54
5 For thy Maker [is] thine husband; the LORD of hosts [is] his name; and thy Redeemer the Holy One of Israel;
The God of the whole earth shall he be called.
6 For the LORD hath called thee as a woman forsaken and grieved in spirit, and a wife of youth, when thou
wast refused, saith thy God.
7 For a small moment have I forsaken thee; but with great mercies will I gather thee.
I Claimed him as my Provider and Source and I wanted to Live like his Bride in every way/ That was my Goal,
to live a Supernatural Life walking in the PROMISES of GOD/
Eph 1:3 Blessed [be] the God and Father of our Lord Jesus Christ, who hath blessed us with all spiritual blessings
in heavenly [places] in Christ:
This is not something you can mentally ascend to and walk in/ It is a Walk of FAITH that is Produced from ABIDING in his WORD and sitting at his feet/ Day by day, by day/ Morning by Morning/ Living by FAITH
in the Word of God/
A Relationship with JESUS is developed by HOT PURSUIT of him above all else. This then allows the
Holy Spirit to communicate with you in a very Supernatural way/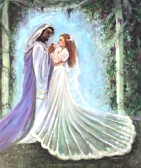 God gave me a WHOLE NEW profession at the age of 61/ After a year of not working, I finally realized I
needed a Job/ I became a Care giver and it became an extension of my Ministry/ Plus I got Paid for it.
It was a whole new way of Life/ being used by the LORD, and using my Gifts to help others daily/ I had the
Gift of HELPS, and I was able to see clearly how to care and help others as the Lord open new doors of
opportunity unto me to Bless all the works of my Hands.
Each New Client was an assignment from the Holy Spirit. I worked as unto the Lord, knowing that
it was all ordained by him ahead of time.
I was able to make a difference and help others through very difficult, Life and death situations/
This was a Blessing in more ways then one/ as I was Paid very well as I just Submitted it all unto the Lord,
and looked to him for each Job/
I never felt anxious or in need/ I knew the Lord was guiding my Life, and that he would find me a New
Assignment when one door closed/ Another one was already prepared/ I mean that I always Had more then
enough with some left over/ so I never needed alot, I knew JESUS was providing day by day/
I had a Car that my Daughter had Blessed me with/ that was beginning to fall apart/ I knew that i really needed
a NEW CAR/ however I did not feel that I was suppose to supply this need for myself. I told the Lord that
as my HUSBAND I felt it was his Job to meet this Need and Supply my needs as he had already PROMISED/
I came to a moment where I had Had it with this Car/ and I was then able to PRAY a PRAYER of FAITH that opened up a way for God to Give me a Brand New Car.
I REACHED out by FAITH and I was able to LAY HOLD on the PROMISES of GOD that he would Meet
my needs according to his RICHES in Glory, not mine/
Phl 4:19 But my God shall supply all your need according to his riches in glory by Christ Jesus.
I DUMPED the whole thing into his Lap, and said as my Husband you need to find away to get me a NEW CAR/ Thats what husbands do/ Right.?
This Was a REAL ACT of FAITH/ I knew God had Promised me this, and I knew he was Able/ So I gave him the whole RESPONSIBILITY of caring it out.
This PRAYER OF FAITH was so POWERFUL that it PROPELLED me into a New Dimension of FAITH/ where I was now Walking in the SPIRIT and the WORD was ALIVE and Manifesting SUPERNATURALLY in my Life .
I could write a book about how this unfolded, as I was not even the only Person who received the Blessing that PRODUCED the NEW CAR.
God is always planning for our needs Ahead of time/ and he had this all set up WAITING for this moment when I would LAY HOLD on it by FAITH/
However the Car was not even the Real Blessing. The REAL BLESSING was seeing JESUS at work moving Heaven and Earth to Provide for me as he PROMISED.
It was OVER WHELMING and Life Changing!! To know that JESUS was Truly being a Husband to me. Knowing he would always supply my needs according to his Riches, not mine. I had entered into a Real SUPERNATURAL place that was full of SURPRISES and Gifts from JESUS.
Deu 28:2 And all these blessings shall come on thee, and overtake thee, if thou shalt hearken unto the voice of the LORD thy God.
There are no Words to convey this to you, since it is to Intimate. It is JESUS courting me/ I PURSUED him for years, and years and years, and Now he is PURSUING ME.
A LIFE TIME of Sowing his WORD has Propelled and Blasted me into a Realm of Supernatural Bliss. I am walking in the SPIRIT seeing the WORD in ACTION before my very eyes/ Gods Word is ALIVE/
It is PRODUCING in the REALM of ABOVE all I COULD ask or think/
Eph 3:20 Now unto him that is able to do exceeding abundantly above all that we ask or think, according to the power that worketh in us,
I am TRAVELING way BEYOND where No Man has Gone before/ just Waiting to see what is going to happen next / What Heavenly Delight is JESUS going to Spring on me next? ( since it has been non stop surprises ) I am living in a STATE of WONDER, like a wide eyed child, full of Surprise and JOY/
The Fulfillment that comes with this Revelation of Intimacy / of Fellowshipping with and ABIDING in him/ is the Promise JESUS gave us of being One as they are One/
Jhn 14:23 Jesus answered and said unto him, If a man love me, he will keep my words: and my Father will love him, and we will come unto him, and make our abode with him.
The Promise of him making his Abode with us. Having this fellowship with him is Far better than anything this earthly life could every offer.
I am Living in the Promise Land, here on earth as it is in Heaven/
Jesus has made his Abode with me/ and I am content to just Rest in his Amazing Love/
I have no needs, and my only Desire is to just have MORE OF JESUS/
by
Ms Terry Mosley
2012