*********************************************
MORNING STAR RISING
AUGUST 2009
NEWSLETTER & DEVOTION
*********************************************
Terry Mosley -- Editor
Rev. Terry Mosley -- Chief Minister
Holy Ghost -- Associate Minister
*********************************************
Spirit of Bondage in the Church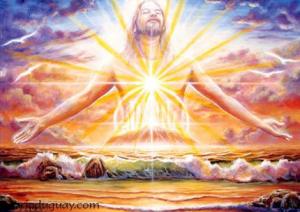 Women Speaking in the Church
There are so many mis interpreted messages on Women Speaking in the Church/ it only serves to EXPOSE the Lack of Knowledge on what the Body of Christ is suppose to Represent. ( ONE BODY, ONE SPIRIT, ONE MIND)
Since we are all ONE IN CHRIST JESUS/ as a Body we are suppose to ACT like it. Since the final Analogy is a BRIDE/ how is it that Women can not speak?
It is all so Childish/
1Cr 13:10 But when that which is perfect is come, then that which is in part shall be done away.
1Cr 13:11 When I was a child, I spake as a child, I understood as a child, I thought as a child: but when I became a man, I put away childish things.
JESUS is the Final Authority on the Whole Subject.
Jesus set Women FREE to Speak his Word to Men the Day he was Resurrected/
Jhn 20:17 Jesus saith unto her, Touch me not; for I am not yet ascended to my Father: but go to my brethren, and say unto them, I ascend unto my Father, and your Father; and [to] my God, and your God.
HERE, Jesus gives Mary a Word from him to give to the Men ( the disciples who where not there)? THIS WAS A PROPHETIC WORD ( testimony of JESUS )
She Obeys him/ but the Men do not believe. Again I say/ that JESUS himself appeared to Mary/ a Women/ and Gave her Gods WORD to give to the Men/
So this Settles the whole matter/
The New Testament Gives WOMEN the Authority to Speak/ whenever God Tells them to. Men Refuse to Grow up Spiritually/ and Live by FAITH in the Fact that we are All One in Christ JESUS/ Not going to be/ we either are/ or your Not Born Again, of the same Spirit. How can we all be part of the Same Body/ and have a different sex?
Gal 3:28 There is neither Jew nor Greek, there is neither bond nor free, there is neither male nor female: for ye are all one in Christ Jesus.
MARY is the SYMBOL of All WOMEN/ who Where SET FREE by JESUS himself, to Speak the WORD God Gives them/ But Nothing has Changed/ since Men still do not HEAR/ This Keeps the Church in BONDAGE, and BLOCKS all Revelation/
THE SPIRIT of PROPHECY is the TESTIMONY of JESUS/ Means Bare record/ or witness. that is all Prophecy is/ Testifying of JESUS/ How can you bare witness, if you where not there? Mary was a TESTIMONY to the FACT that the MEN where NOT Present on this Occasion
NO WONDER they don't Want to LISTEN? Since there where NO MEN present to TESTIFY to the RESURRECTION/
MARY HAD TO DO IT.!!!
MARY is TESTIFYING to what She Witnessed of JESUS/ and 2,000 years Later, men are trying to STOP WOMEN from TESTIFYING? What difference dose it make where the Testimony is Given as LONG as it GLORIFIES GOD/ who Cares who is Doing it ?
Can YOU Image GOD saying/ Do Not TESTIFY about JESUS unless you are a Man?
This is basically what all denominations that Limit Women from speaking, are saying. (Calvery Chapel is the worst offender/ since most women do not even no that they won't allow Women to Teach in this Church/ This is true BONDAGE/ )
The Teaching of the WORD by Men or Women is About TESTIFYING of JESUS. JESUS and his WORD ARE ONE/
HOW CAN ANYONE LIMIT that to men? Next the Definition of Prophecy has been TOTALLY LOST in meaning/
and is being Used for things it has NOTHING what soever to do with. Testimony of Jesus is the Spirit of Prophecy
and it means/ to bare witness of.
by
Ms Terry Mosley
2009
*********************************************
MORNING-STAR RISING UPDATE
*********************************************
Hi Dear Prayer Partners. Thank you for your Prayer support for this Ministry.
We are still working on setting Up the New Morning Star blog Page, and we need
a lot of prayer and direction in doing this. Pray for us to select the right Topics ,and to
be in Gods Timing for it all. Pray we can get this all set up SOON .There are
things relating to Site Promotion that need your Prayers. God is Bigger then Google,
so pray for him to set things up above the ways of the Internet. Keep our Web Master
in Prayer as well. His Name is Nate. We will use this Months message for a blog, Then you
can Post your comments on what you think about Women and their place in the Church.
We want to go where No One has Gone Before/ More on that as the day approaches.
Remember that we have Live Prayer for those who have Skype or Ichat/ Or
that you can Phone in for Prayer as well. Blessings, and thanks for all your prayers. .
Blessings Terry & Star
Blessings
Terry & Star.
Blessings and much thanks to you all. Love
Terry & Star
*********************************************
HEAR IS A REVELATION
*********************************************

The Whole Family is in Heaven & Earth
Eph 1:10 That in the dispensation of the fulness of times he might gather together in one all things in Christ, both which are in heaven, and which are on earth; [even] in him:
Remember that the WORD Earth means Region or Dimension. Heaven & earth are 2 different dimensions. Earth is the Footstool dimension/( Gods Footstool. )
Here in this Verse it states that in Gods Perfect Time Line/ the citizens of Heaven and the citizens of the footstool region / who are One in Christ Jesus, will all be gathered together in him.
Eph 3:15 Of whom the whole family in heaven and earth is named,
Did you Realize that the BODY of CHRIST is Multi Dimensional? That his Body has parts that are in other Dimensions? Heaven alone is a Multi Dimensional place/ Heavens within Heavens.
This tells us that God is Merging all these different dimensions together to become ONE. That his Body, although Multi Dimensional, will be Transformed into something BEYOND this!!.
Eph 1:23 Which is his body, the fulness of him that filleth all in all.
( 2,000 years ago they thought it was all about Jews and Gentiles becoming one.)
by
Ms Terry Mosley
2009
*********************************************
THE BRIGHT AND MORNING-STAR
Re 2:28 And I will give him the morning star.
Re 22:16 I Jesus have sent mine angel to testify unto you these things in the churches. I am the root and the offspring of David, [and] the bright and morning star.
Lu 1:78 Through the tender mercy of our God; whereby the day spring from on high hath visited us,
Lu 1:79 To give light to them that sit in darkness and [in] the shadow of death, to guide our feet into the way of peace.
2 Pe 1:19 We have also a more sure word of prophecy; whereunto ye do well that ye take heed, as unto a light that shineth in a dark place, until the day dawn, and the day star arise in your hearts.
*********************************************
Easton & Smith Thayers Greek Lexicon & Dictionaries
5459 fosforov phosphoros {foce-for'-os}

from 5457 and 5342; TDNT - 9:310,1293; adj

AV - day star 1; 1

1) light bringing, giving light
2) the planet Venus, the morning star, day star

*********************************************